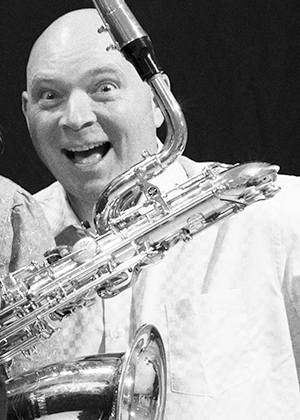 Eirik Johan Solheim (lead trumpet) is a founding member of The Soulmates Band and webmaster of the official website.
Eirik started playing the cornet and trumpet in the school wind band when he was 10 years old. After saving enough money, he bought his first professional trumpet, an Olds Recording Bb trumpet when he was 15 years old.
His main trumpet teacher was George Silver, a trumpeter with the Bergen Philharmonic Orchestra. Eighteen-years-old, Eirik joined the Eikanger-Bjørsvik Musikklag, a famous Norwegian brass band (Norwegian and European champions several times), playing the repiano cornet part.
Eirik played with many different brass bands, a symphony orchestra, jazz groups and big bands, before joining the Soulmates in 2006.
His main horns are a Schilke B5 trumpet (usually with a Schilke 14B mouthpiece), a 1970s Yamaha YTR-634 (a Schilke B5 clone) with a Yamaha 14B4 mouthpiece, a Schilke flugelhorn, a Schilke XA1 cornet and a Schilke P5-4 piccolo trumpet.
At daytime he works as a professor and consultant orthopaedic surgeon at the University of Bergen and Aleris Nesttun and part-time photographer at Silkfactory.